Gold Party Package
The Gold Party Package starts with the 45 minute magic show, which has lots of audience participation and fun.During the magic show Darren will have some of the children to assist him. They will receive a balloon model, certificate and a magic wand kit for helping.
The birthday child will help twice during the show and receive two special balloon models for helping.
After the Magic show Darren will have a break whilst the children eat.
Once the children have eaten Darren will gather the children together and sing Happy Birthday to the birthday child.
Then its straight in with another 45 minutes of fun party games.
Including a Dancing competition, Then its The very popular Baby shark dance, Camel racing, pass the parcel and finishing on the Hokey Cokey.
Please note
The Gold Party Package
Darren will provide all the prizes for the games.
After the Games Darren will make balloon models for the rest of the children.
Darren provides all the entertainment, all you have to do is provide the food, and the children.
( please note some of the games may vary depending upon the age of the children )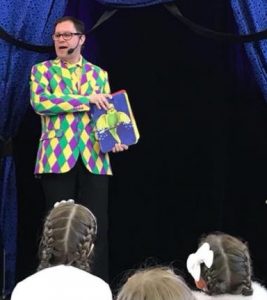 A fantastic children's entertainer, he managed to keep 50 children mainly  aged 4-6 entertained and made it look easy.

Mrs Moretta

Burnley